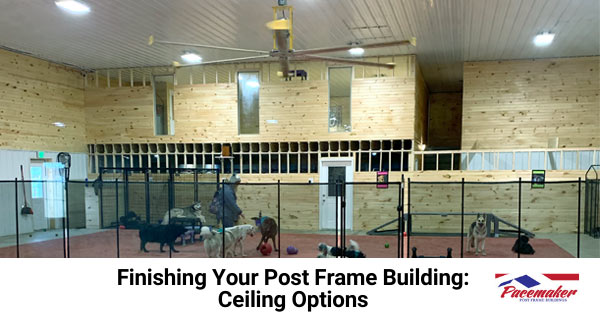 When designing your new post frame building, your initial considerations typically pertain to size and space, function, location, utility, and access. Next, you'll need to choose interior finishing. These are some post frame building ceiling options and choices.
For example, a post frame structure to be used as a storage facility does not require the same amenities as an equestrian center. However, a working storage structure must provide ample space to accommodate your inventory for the foreseeable future. The building will also need light, heat, and large doorways positioned correctly to allow easy access.
Once you have the solutions for the building shell and exterior design, turn your attention to the interior finishes. These details make your post frame building function as efficiently as possible and look great. Many post frame owners clad their interior walls in drywall or other paneling to cover insulation. This minimizes energy loss while adding a pleasant "finished" look to the space. So what do you need to consider when finishing the ceiling?
Ceiling Options for Post Frame Buildings
One option is to leave the ceiling open. This choice leaves the upper section of the structure wide open, providing a greater feeling of space. In some applications, open ceilings in post frame buildings are normal. For example, in equipment and vehicle storage facilities, riding arenas, or farm shops.
In many instances, the same materials used to clad the interior walls can also be effective for the ceiling. You should select a ceiling material best suited for the building's core function. Or you can choose the material for each individual room. Your post frame building contractor can help you understand your options and decide what delivers the most value.
Here are some options to consider for post frame ceiling finishes:
Drywall

If drywall is being used for the walls, the same material should be appropriate for the ceiling. Low-cost and fire-resistant, drywall is easy to install and will accommodate light fixtures and ceiling fans with no problem. Drywall also helps to cover any insulation and offers a clean, professional finish.

Drywall ceilings are typical in retail spaces, professional offices, garages, and residential post frame buildings.

Plywood

Depending on the market price of wood products at any time, plywood is an attractive alternative. Practical and attractive as ceiling material in tool sheds and workshops, plywood is more durable and more water and moisture-resistant than drywall. Plywood can give the space a more rustic look while offering a clean, complete feel.

Ceiling Tiles

Ceiling tiles have long been a go-to option for almost any type of building. Easy to install and long-lasting, individual damaged units can easily be replaced. The tiles come in various sizes, shapes, and textures, providing retail and professional building owners and municipal post frame buildings with various aesthetic choices. Ceiling tiles can also help muffle exterior sounds.

Note that post frame barn or warehouse owners sometimes only install ceiling tiles in part of the structure, such as segregated office spaces. Ceiling tiles are typically installed below the roof line and parallel to the floor. As such, tiles can be an extra expense.

Steel Liners

Steel ceiling panels are attractive and can last as long as the building. While more expensive per square foot to install than other options, this option is most modern-looking.

Professional offices, athletic facilities, auto dealerships, and various retail shops use steel ceiling liners to add class to their operations and enhance the brightness of their interiors.
Work with a Proven Post Frame Building Company
The experts at Pacemaker Post Frame Buildings in North Webster, Indiana, will help you make all the right choices for your post frame building. You may be envisioning a simple shed, an attractive civic building, fire station, warehouse, equestrian center, or a good old-fashioned barn. Pacemaker will help you with the design, supply components, and even perform the construction of your new durable and highly functional building.
Visit the Pacemaker Gallery to see some of the stunning complete projects we have completed for clients in Indiana, Michigan, and Ohio. If you have questions, visit the Contact Us Page on our website, and one of our experts will contact you promptly.
To schedule a consultation to discuss your objective, call Pacemaker Post Frame Buildings at 888-443-4448.