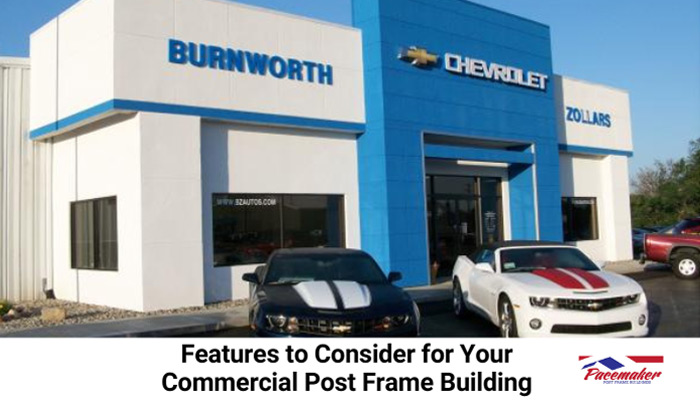 While you are designing your commercial post frame building, there are certain areas that you should focus on. After all, adding specific features to your design will be important to ensure the full functionality of your building's intended use.
Consider what features are appropriate for now and what your potential needs may be for the future. After all, it is generally more cost-effective to add these now rather than down the road. The features listed below are often used to help plan for an efficient commercial post frame building.
Features List for Commercial Post Frame Buildings
Storage Areas
You can never have too much storage space in your new post frame building. However, it is important to make sure you have enough for now as well as enough to accommodate future growth. Remember that while expansions are easier with post frame buildings, it can mean taking space from another, potentially critical space.
Large Openings for Deliveries, Vehicles
Standard-sized openings for vehicles may be sufficient for right now, but what happens when you need to accommodate larger vehicles? Will the opening be large enough? Is there sufficient space leading to the entrance?
As businesses grow, they often need to deal with larger vehicles of various types. As a result, the space designed to accommodate these must be larger than originally planned. Consider the possibility of having larger vehicles and plan ahead for this. After all, replacing overhead doors later can be costly.
Dedicated Repairs and Service Areas
The space you currently need to accommodate the normal service and repair of vehicles may also increase with time. New equipment, for example, is often larger in size, calling for additional space.
As you grow, the amount of space necessary for operations will grow in proportion. Thus, you should plan for additional space.
Mezzanine Office Space and Staff Room
It is important to create private spaces that are away from the main floor space. However, rather than planning around your other space needs, consider a mezzanine above. This room can be fully furnished, have heat and air conditioning, and provide space to work when needed. Mezzanines can be above storage rooms and utilize otherwise empty space.
Additionally, consider setting up a separate space to relax, rest, and enjoy some free time away from work tasks for employees. Consider also adding a restroom or two for employees or visitors.
Showroom Space
Post frame buildings are a popular option for retail spaces. However, you must plan for both a showroom and sufficient storage that is easily accessible.
Too often, the showroom space is too small, as owners do not anticipate the growth of their business. Remember the amount of showroom space must be well planned. Making sure you have the right amount of space to show your goods is important, even if it means having too much in the early years.
Again, it is easier to accommodate growth at the outset rather than trying to add space later.
Reasons for a Post Frame Building
While getting all these factors correct is a challenging proposition, the beauty of a post frame building is its flexibility. Since no load-bearing walls will exist within the structure, owners will have the opportunity to adapt their space to match their needs as they grow.
Contact Pacemaker Post Frame Buildings
Pacemaker Post Frame Buildings has been in business for over four decades. The family-owned business has seen many changes and improvements in post frame buildings and has created fabulous solutions for their many customers in the Northern Indiana, Southwest Michigan, and Northwest Ohio territory.
A leader in the industry; Pacemaker Post Frame Buildings has helped lead the way in designing, supplying, and building post frame buildings throughout their service area.
For more information and to set up a private, no-obligation meeting, you can visit the Pacemaker Post Frame website. Complete the simple Contact Us form and one of the Pacemaker professionals will contact you.
Or you can call Pacemaker Post Frame Buildings at 888-834-4448.