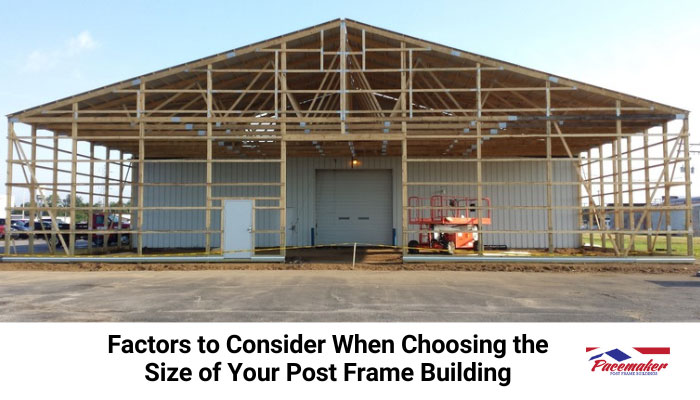 When considering a post frame building design, the intended use, capacities, and long-term functionality are the core considerations. How large should the building be? What will you be storing? How much maneuvering space will you need? How much clear square footage and unobstructed vertical space is required? Consider the following tips when choosing the size of your post frame building.
Remember, post frame buildings are very adaptable structures, and the interior floorplan can change later with little effort.
The ample open space with no load-bearing walls and columns allows for open movement, so machinery and materials can maneuver about easily. The space should easily accommodate alternative priorities like a workshop, office, man cave, or tack room.
Considerations for Choosing the Size of Your Post Frame Building
Determine whether local building codes will restrict how big your building should be.
Before you begin brainstorming your ideas, check first with the local authorities to determine if there are any limits on the building size and type you are considering. Make sure the location of your post frame structure will be acceptable.
Consider all possible uses.
When you start you may think that your new post frame building will be for equipment storage and perhaps a workshop. However, you may later decide that the structure would also be ideal for overflow storage from your residence or elsewhere. You may even consider using it as a private office, RV storage, or even a place to keep tools and lawn care gear.
Remember that equipment tends to get larger.
While your current tractor, combine, boat, RV, and accessories may only take up a certain amount of floorspace now, keep in mind that replacements will likely be larger. Future equipment may demand even more square footage for storing and maneuvering within the building.
Finally, consider the possibility of larger equipment when deciding how large the entry needs to be.
Wall racking, balconies, and lofts save square footage while filling up more vertical, cubic space.
Post frame structures offer a significant amount of usable cubic footage. However, this can become wasted space without racking and shelving to accommodate smaller items. Installing an office or workshop on a second level reduces the demand for first-level floor space. This upper-level space can be added easily with climate control and a lavatory.
Position your building for possible expansion.
While it is best to size your building right at the outset, circumstances may call for a larger facility in the future. Luckily, a post frame building is easy to expand when needed.
You must make sure you position your original building so the addition can be added. Also, remember you need ample access to maneuver heavier machinery and equipment.
Brainstorm with a Pacemaker Post Frame Buildings Expert
Longstanding industry leaders like Pacemaker Post Frame Buildings of North Webster, Indiana, have managed many projects that are similar to yours. Their professionals understand their clients' current and future needs and can help them construct a modern post frame building that will meet their needs today and in the future.
To discuss your ideas and needs and sketch a preliminary plan that serves your needs while staying within your budget, contact Pacemaker Post Frame Buildings.
As a longstanding designer, supplier, and builder of high-quality post frame buildings for clients in Northern Indiana, Northwest Ohio, and Southwest Michigan, Pacemaker will help you "right-size" your facility to handle present and future needs.
For more information, visit the Pacemaker Post Frame Buildings website. While there,  you can view a Gallery of past projects and also set up a consultation with one of the Pacemaker experts.