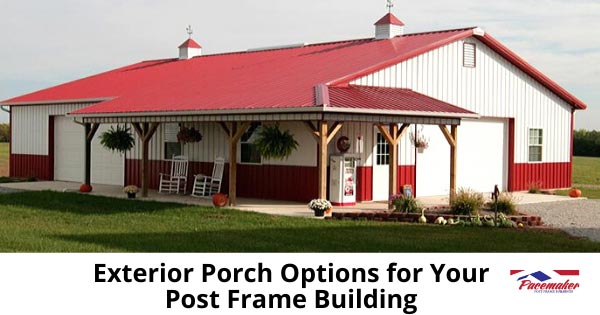 Have you considered an exterior porch for your post frame building? Whether the addition is meant to be functional, decorative, or both, adding a porch to your post frame plan is easy to do. Here are porch options for your post frame building.
Your post frame building can be used for whatever you want. Whether you are building a barn, equestrian center, commercial building, or residence. Just about any exterior feature that you may want can be added to your building. As a highly versatile and practical building solution, post frame structures have minimal limits on exterior cladding or most other architectural elements.
Porches can be included in the design at the time of construction or as an easy remodel to an existing post frame building.
Porch Options for Your Post Frame Building
An exterior porch can serve several purposes. Here are a few ideas for uses:
An aesthetically pleasing entryway and access.

Overhead protection from the rain and snow for equipment that you must access frequently.
Entertainment and relaxation space away from the interior storage area.
Exterior screened workshop, office, or maintenance area.
Outside product display area for commercial enterprises.
4 Porch Design Solutions
Entry Porch
While size and shape options are virtually limitless, positioning is important. You should position your porch on the front or most visible side of the building. A well-designed porch will break the monotony of the rectangular structure. Additionally, it can provide an aesthetically pleasing impression of the overall architecture.
An entryway porch focuses and invites access into the building. By using creative styling of the roofing and vertical supports, you will also give the building a more appealing appearance.
Inset Porch
An attractive option for porch placement without increasing the building's footprint can be as an inset. An inset works by using one of the corners of your post frame building and reversing it inward toward the interior of the structure. The ceiling of the porch becomes the upper level inside. Thus use that space above for storage, as an office, or any other purpose.
The vertical post at the corner will remain in place to support the overall building. Thus you can choose a finish option that compliments the aesthetic of the post frame building.
An inset porch is a great option when land space has limits.
Recreation Porch
Often post frame buildings that are used for equestrian or agricultural purposes are situated in locations that have amazing panoramic views. A shaded, screened-in porch is a great solution for year-round activities. You can then add comfortable seating, a wood stove, and other accessories to make it the spot to relax, reflect, and entertain.
Wraparound Porch
Another practical and attractive option is to add a wraparound porch that encircles all or three-fourths of your post frame building. This option is not only aesthetically pleasing but highly functional as well. This style of porch provides a sheltered space at every access point. It can also be an area to stage incoming materials and provide exterior dry storage for equipment.
For equestrian centers, the additional shelter provides a place to saddle or unsaddle horses and also provides a cooling area away from the sun.
Additionally, you can include a sheltered seating area anywhere around the perimeter of your building.
Contact Pacemaker Post Frame Buildings
Pacemaker Post Frame Buildings, located in North Webster, Indiana, has been at the forefront of the post frame building industry for four decades. As an industry innovator, the company has implemented many of the breakthrough technologies and materials that have evolved the business. Post frame construction is no longer just simple pole barns. The construction method has become a practical, economical, and attractive solution for many commercial, civic, equestrian, and agricultural structures.
Check out the Pacemaker website to view some of their past outstanding projects.
For information about adding a porch to complement the functionality and beauty of your post frame building, or for any other application, contact the experts at Pacemaker at + 1(888) 834.4448.