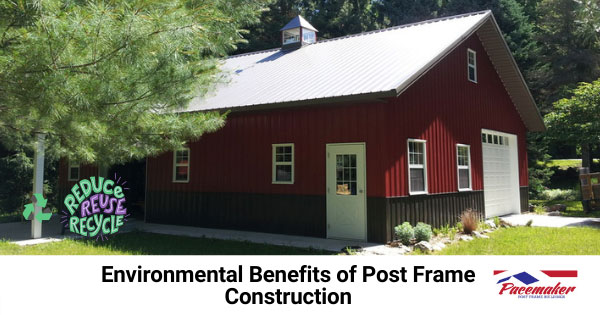 Of all the forms of construction, post frame buildings and their materials and methods are the most environmentally beneficial way to build. Not only is ground displacement minimal compared to other methods, but post frame buildings also use less energy during construction and long-term operation. These are just some of the environmental benefits of post frame construction.
Additionally, the primary building materials are often both renewable and recyclable. Post frame builders can utilize recycled materials throughout the build process to produce an energy-efficient and highly functional post frame structure.
Sustainable Architecture
Wood Products
Almost everything that goes into a post frame building is either renewable, reusable, or recyclable. For example, the wooden post columns and trusses that make up each post frame building's support structure come from a renewable resource – trees. Today, to support the ever-growing demand for wood-based products, companies and other organizations continue to replace trees at a sustainable rate.
According to a U.S. Forest Facts Report by ThoughtCo, the United States tree growth is exceeding both removals and mortality to assure supply stability for the future. In fact, much of the demand today comes from private tree farms.
As living and growing plants, these trees also help reduce carbon dioxide levels while converting the gas to oxygen to maintain the necessary balance in our atmosphere.
Wood is also recyclable. Once a structure is obsolete and is torn down, the wood components can be pulverized or scrapped for various uses.
Metal Siding and Roofing
Many post frame building owners opt for metal siding and roofing for durability and strength. Much of this material can be sourced from recycled metals that would otherwise have gone to the landfill.
Once the building is no longer in use, the metal parts can be recycled into new, usable material.
Energy and Materials Expended During Construction
Post frame construction is a technically advanced process. However, the efficient use of labor and materials needed is often less than other conventional building methods.
Widely spaced vertical support posts embedded deep into the ground provide the fundamental support for the building. Prefabricated trusses fit above the vertical supports. These feature secure connections and other support components to create a solid and durable unit. This combination is capable of withstanding even the most severe weather conditions.
Site preparation for construction is also easier than traditional building. With the exception of sloping topographical conditions, the footprint and access need minimal work before beginning the construction process. This includes grading and reinforcing the building floor site.
Post frame construction often requires less job site equipment and time-to-completion. The process also requires fewer specialized trades to complete the project.
Operating Energy Efficiency
Once the structure is complete, the structural design provides greater energy efficiency than "stick-frame" or masonry buildings. This is because it is much easier to apply insulation evenly without gaps, in the vast areas between posts. Fewer gaps in insulation mean it is much easier to create uniform energy containment.
Even the wood beams offer a substantial R-factor to prevent energy loss. Over time, the savings from a more efficiently insulated structure will also reduce operating costs dramatically.
That sums up some of the many benefits of post frame construction.
Pacemaker Post Frame Buildings: An Industry Leader
Headquartered in North Webster, Indiana, Pacemaker Post Frame Buildings has been serving clients in Northern Indiana, Northwest Ohio, and Southeastern Michigan for over four decades. As an experienced design and professional post frame contractor, Pacemaker is a leader and innovator in the post frame industry.
Visit the Pacemaker Gallery of finished projects to learn about some of the remarkable, beautiful, and creative projects built by Pacemaker.
To discuss your vision for a durable and affordable post frame solution for your agricultural, civic, equestrian, retail, or residential building, contact the Pacemaker professionals.
Call Pacemaker Post Frame Buildings at +1-888-834-4448.
Or you may complete the brief Contact Form on the website, and one of our post frame experts will contact you at your requested time.