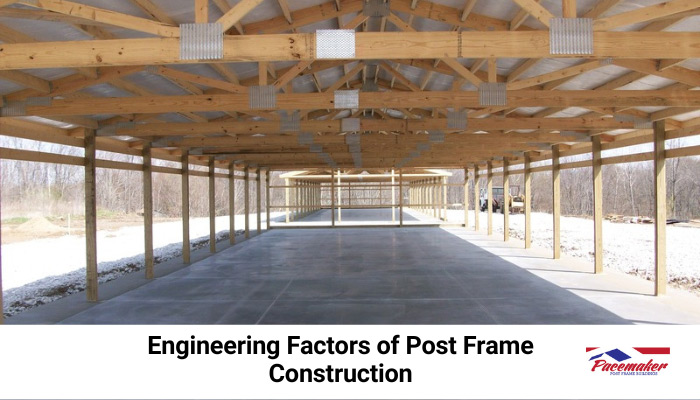 The design of a modern post frame building, when assembled correctly offers remarkable strength and durability. Although the configuration may seem pretty straightforward, extra attention must be paid to the complex engineering aspects to provide a lifetime of flexibility and versatility.
Collaborating with a long-time proven post frame building company will ensure your structure provides all the service and functionality you need.
Understanding the Engineering Aspects of a Post Frame Building
Many individuals, often dedicated do-it-yourselfers, look at the basic drawings and components of a particular post frame structure and decide they can duplicate the effort without further assistance. However, this can frequently lead to unanticipated and disastrous outcomes.
While it is true that building a post frame structure is more straightforward than other construction methods, the engineering is very sophisticated. Therefore, shortcuts or substitutions can diminish the structure's capability and even its longevity.
Consulting with a post frame expert like Pacemaker Post Frame Buildings can ensure you address all essential engineering elements. This way, you ensure all parts come together to produce a beautiful, durable, and long-lasting structure that performs as you envision.
Matching Components to the Building Design
Your new post frame building will only be as strong as its weakest part. Incorporating components and fasteners designed for buildings with other dimensions can reduce the structure's weight-bearing capacities and longevity.
Building design always starts with a good plan. During the planning stage you should carefully estimate the maximum load, cubic space, and floor area necessary. Attention must be paid to elements like external access, internal maneuverability, wind conditions, and maximum snowfall in the region.
An appropriate building design will come together with the help of an experienced post frame designer. Your designer will determine each of the engineering elements that need to be considered.
Primary Engineering Considerations
Building Width
As the width of the structure increases, the strength of the trusses must increase accordingly. Double-ply trusses and increasing the thickness of the vertical columns become necessary as the width increases. This is to safely provide a larger square footage of uninterrupted space.
Building Length
When the length of a post frame building is more than double the width, reinforcement is vital. Adding a shear wall at a strategic point can help support the extra length.
Building Height
When the design exceeds a certain height, say 16 feet, the vertical posts should increase in size from the standard. This is to provide enhanced stability and durability, especially in areas of high winds and significant snow accumulation.
Ground to Building Connections
Vertical posts should be lowered and anchored deep enough into the ground. Furthermore, they may need to attach to a concrete foundation. This is to provide maximum reinforcement against heavy winds and violent storms.
Ground/Soil Conditions
Larger footings and more extensive underground support spreads the structure's weight over a larger area. This is crucial to prevent settling in soft ground conditions.
Roof Pitch and Directional Orientation
The roof angles should address the potential to shed snow and minimize wind forces. Furthermore, the structure's orientation should be in a direction that reduces the impact of prevailing winds.
Exterior Doorways
The strength and positioning of entryways should address their potential for withstanding maximum structural loads.
Working with Pacemaker Post Frame Design Experts
Post frame building owners in Northeastern Indiana, Northwest Ohio, and Southwest Michigan have benefited from the expertise and quality of products provided by Pacemaker for over four decades.
The design experts at Pacemaker Post Frame Buildings in North Webster, Indiana, understand the engineering and structural requirements for every configuration.
Check out the Pacemaker Post Frame Buildings Gallery, where you can view many of their past projects.
To schedule a consultation to discuss your post frame building ideas, visit the Pacemaker Post Frame Buildings Contact Us page and complete the brief information form.
You may also call 888-834-4448, and one of the Pacemaker post frame experts will be pleased to discuss your project and schedule an in-person consultation.