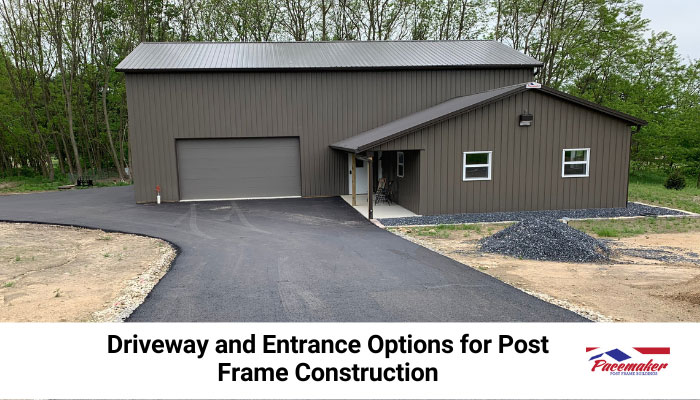 When planning your new post frame building, your initial consideration should be its location. Deciding how to orient the structure for maximum access and maneuverability must also be part of the process. /driveway and entrance options are also a main consideration. After all, if the building will be used to store large equipment, allowing sufficient access to the entrance is an essential factor.
Designing the Driveway Access to the Building
Creating suitable driveway access for your building is essential when designing the entryway of your post frame structure. Key factors to consider are the degree of support required, your budget, and the desired aesthetic.
The design and composition of your driveway access may depend on the weight of the equipment and vehicles moving in and out of the structure. Deciding which material to use will impact your total cost and, to varying degrees, the overall appearance.
Primary cost variables include:
 The length and width of the driveway
 Site preparation
The type of material
Thickness of the material
Contour of the approach
Contractor margins
Choosing Your Driveway Materials
Below in ascending order of total cost, are the most common driveway material options for your post frame building:
Dirt
This option is the cheapest cost and requires the least labor. However, this may be the less desirable option in the long run. With a dirt driveway, rutting will often occur with repeated use by heavy vehicles and equipment. This situation will only worsen with repeated rain, snow, and freezing/thawing conditions. Dirt driveways are easy to repair, but the time and cost may not be worth it in the long run.
Gravel
This is a bit more expensive than dirt but a significant improvement overall. Gravel driveways drain well and are very easy to install. However, you must add fresh gravel as time passes to keep the driveway in good shape and maintain support. Be aware that snow removal is more complicated, and some gravel will inevitably find its way into the surrounding landscape.
Asphalt
Though more expensive, asphalt presents a clean, well-defined appearance. Snow removal is simple. The black surface absorbs the sun's heat which helps melt snow faster than other materials can. Note that asphalt driveways will eventually start to crack. Thus, you should consider resealing your driveway in the Spring.
Standard or Stamped Concrete
Concrete offers excellent visual appearance, durability, and longevity. Although a concrete driveway should hold up for decades, the material will crack eventually and require some patchwork. However, ensuring the base beneath is sufficiently prepared to sustain the weights that will use it will extend the longevity of the driveway.
For additional aesthetic value and cost, owners may install "stamped" concrete. This creates grooves that mimic pavers or brick surfaces, or you can create a custom design.
Pavers, Bricks, and Blocks
The most expensive driveway option consists of using paver blocks or bricks. This type of surface is usually the most appealing in appearance. However, it is susceptible to frost heaves and severe weather. Therefore, it can become uneven over time, requiring substantial labor to remove, flatten and reinstall the bricks or pavers.
Work with Pacemaker Post Frame Buildings
Pacemaker Post Frame Buildings of North Webster, Indiana, has been helping building owners attain their objectives for over four decades. A family-owned business, Pacemaker is the premier post frame designer, supplier, and builder for clients throughout Northeast Indiana, Northwest Ohio, and Southwestern Michigan.
Consulting with a Pacemaker Post Frame Buildings professional at the outset of your project will save time, headaches, and money by ensuring you have considered all possible options in creating your ideal post frame building.
Visit the Pacemaker Post Frame Buildings website Gallery to view many of their past projects. Here you will witness several structural ideas that may be perfect for your future post frame building project.
Contact Pacemaker Post Frame Buildings for more information and to schedule a no-obligation consultation.
If you have questions about any element of post frame buildings, call the Pacemaker post frame experts with your questions at (888)-834-4448.