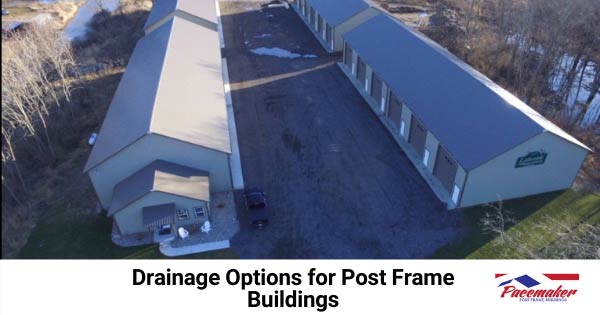 Drainage options for post frame buildings. Eliminating the potential for water accumulation anywhere within or around your post frame building is critical. Water can weaken the structural components of the building, and damage whatever is inside. Not to mention it can foster the growth of mold and other problems that can become difficult to eradicate.
Whether on the surface or in the subsurface, the excess water without proper drainage is a sure sign of a design or construction failure.
Surface Accumulations
Surface accumulation in and around a post frame building following heavy rains often indicates improper grading of the building site. When constructing your post frame building, you should always properly grade the property. The areas surrounding the footprint should slope downward to carry the water away from the structure.
Areas around the doorways and any driveway accesses must also be contoured to cause rain or melting snow to drain away from the structure to a neutral zone. In some instances, this process may mean raising the footprint level of the proposed building.
Additionally, you can consider adding heavy-duty gutters and downspouts to your building. These will carry flowing water away from the building and can prevent many problems.
Subsurface Accumulations
Water accumulations under the floor level of the structure are also caused by improper drainage. This is a major indication that your subsurface drainage systems or pipes are insufficient. They should be large enough to carry away the water that may be coming from within. The best way to combat this problem is by proper planning.
Before the final grading is complete, you should install corrugated drain tiles with an appropriate number of drains to create efficient drainage.
You should always consult a proven post frame building professional well before the process begins. They will collaborate with you on design including proper drainage options for post frame buildings.
Adequate Drain Placement
Where to place drains and the number of drains you need will depend on the size of your building. How you intend to use the facility will also affect the drainage plan. Expert advice is essential here, since you may not want to move heavy items and equipment across drains. You might elect to place these out of the way toward the perimeter where traffic is lightest.
And if you will be assembling or disassembling equipment and machinery, consider doing this in a drain-free area of the floor since nuts, bolts, and tiny parts tend to end up falling through.
Reducing Condensation
Condensation within the building is another common challenge. Proper ventilation is crucial. This is easily solved by placing appropriate windows and fans to reduce the potential for condensation. These can also make the interior of your post frame building far more comfortable while protecting your machinery and other stored materials.
Working with a Proven Post Frame Construction Company
You want your post frame building to last a long time. As any construction is a significant undertaking, you should work with a proven company with a track record of successful projects, innovation, and understanding of unique situations.
For four decades, Pacemaker Post Frame Building professionals have served satisfied clients throughout parts of Indiana, Michigan, and Ohio to realize their dreams of beautiful, durable, and highly functional post frame buildings for agriculture, commercial, civic, and suburban structures.
You may view many of Pacemaker's beautifully completed projects by visiting the Gallery Section of the Pacemaker website.
To discuss your project and speak with an experienced professional, complete the simple Contact Us Form on the website, and one of our experts will be in touch.
You can also call the pros at Pacemaker Post Frame Buildings at +1-888-834-4448.