ad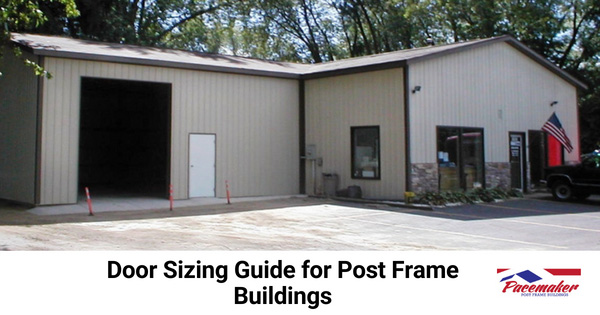 Your new post frame building is only useful when you can store and access things inside it. Doors are a critical component during the planning process. To help with planning let's look at a door sizing guide and considerations. After all, how big the doors should be is an important consideration.
You want to allow enough space for your larger equipment, vehicles, and animals to enter and exit. Doors that are too small cause headaches, and disappointment, and add extra costs after construction is complete.
Accurate measurement and considerable foresight help with choosing door sizing, which must be nailed down before design and construction begin. Last-minute changes will likely delay the project and create added expenses.
Keep in mind that overestimating is a good strategy. After all, your future camper, boat, or tractor will likely be larger than the current ones.
Workshop, RV, or Boat Storage Entry
Storing your tall and wide RV or trailer requires a much larger entry than a standard garage door. An RV or trailer can be much taller than standard vehicles and may legally be 9 feet in width. To be safe, consider adding 2.5 to 3 feet on each side. This will allow for easier maneuverability.
When storing your boat and trailer, the height of them combined is a critical consideration. Remember, your future boat may be larger than the current one, so keep that in mind. A 12-foot width by 16-foot height door should be sufficient for a typical 24' powerboat with an engine or a similar-sized sailboat with sails furled. Each of these has an average beam or width of about nine feet.
In any case, equipment sizes vary, so accurate height and width dimensions are vital.
Equestrian Center Entrance
The overall size of an equestrian center or horse barn will depend on how many animals you expect to board and how much equipment you will need.
As for the entryways of a horse barn, the dimensions should be tall and wide enough to allow the largest horse and the tallest rider to pass through without having to duck or stoop.
Placing an entry on each end is always a good idea to enhance ventilation and create ease of movement. If you are housing a horse trailer, you will need to allow the trailer and towing vehicle to enter and leave without too much maneuvering.
A 14' by 14' door at each end of your post frame horse barn should ensure easy access for horses, vehicles, and humans. You may also consider individual stable doors leading to a grassy area or arena.
Barns and Farm Buildings
Barns and other farm buildings can serve many purposes, and over time, those purposes may change.
If your post frame building should serve as a place to store equipment and perhaps a workshop for repair and service, the entryway must be sufficient to accommodate the largest pieces you want to store. Keep in mind that your future equipment may be larger, so take a liberal view when gauging doorway dimensions.
Also, ensure the approach to the access is straightforward and that unnecessary maneuvering will not be required.
Use these considerations as a door sizing guide when planning your post frame building.
Work with a Professional Post Frame Designer
Experienced professionals like those at Pacemaker Post Frame Buildings in North Webster, Indiana, have addressed these issues in hundreds of past projects.
By understanding the benefits of post frame buildings and their many uses, your professional design consultant will help to ensure that the entryways will be sufficient now and in the future.
For more information about the durability, practicality, benefits, and cost savings of a modern, beautifully designed post frame building, contact Pacemaker Post Frame Buildings. They are a long-time, family-owned designer, supplier, and builder of high-quality structures for many functions.
You can view some of Pacemaker's many completed projects by visiting their Gallery.
To make your appointment for a consultation, complete the brief Contact Us Form or call 1-888-834-4448.