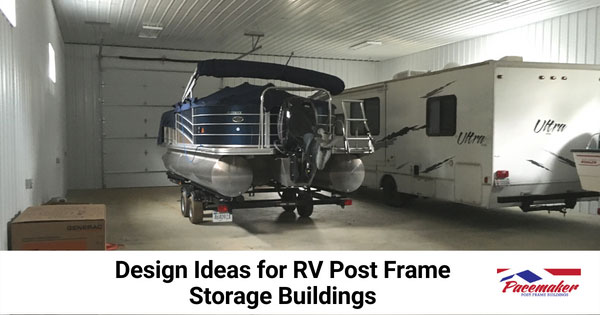 Post frame buildings are the perfect solution for all sorts of situations. An important reason for their popularity is that post frame designs are easily adaptable. The dimensions can be adjusted to accommodate various tall, wide, and long vehicles and equipment with plenty of open space to maneuver. Post frame storage buildings are a great solution to store RVs, campers, or boats.
Providing shelter for RVs and trailers has become a substantial and growing need, and post frame designers and builders have the most economical, practical, and effective solutions.
Building to Store Your Camper, RV, or Boat
Boating and camping are marvelous family-oriented activities, especially for those who love the great outdoors. But, as the winds blow and the days get shorter, many RV and boat owners return to their permanent shelters, continually looking for ways to protect their oversized summertime gear. After all, the equipment lasts much longer if you can protect it from winter weather.
However, in most cases, a standard-sized garage and garage door will not do the job. It's time to think about building a structure that will fit your vehicle, boat, or possibly a horse trailer.
The height of the entry and the interior of the building should be the primary consideration during planning. Additional floor space will also come in handy if you plan to store other equipment in addition to the oversized item.
Things to consider when designing your camper or boat facility:
Placement and Access
RVs and campers can be difficult to maneuver in tight spots. Your first objective should be to define the location and orientation of the structure's footprint. Ensure that there are no overhead obstructions like power lines or tree limbs.
The design should also allow easy access and entry. Consider also adding supplementary driveway access where necessary.
Plan for Growth
What you decide today may not be sufficient in just a few years. As we know, replacement campers and boats are often larger than the originals. Families and their needs may grow, as such, recreational toys also tend to get larger. Make sure to allow more space in your plan. It may not seem necessary at first, but you will be glad you did as the years pass.
Blending in Aesthetically
Your post frame building does not need to detract from the appearance of your home or neighborhood. Use aesthetics, textures, and colors for your new building to incorporate elements that complement rather than detract from the surrounding structures.
Professional designers can use three-dimensional, computer-aided design (CAD) techniques to help you visualize the final project and make any color and style changes.
Consider a Multi-Use Post Frame Building
Perhaps building a new post frame building just for your RV or boat may seem a little extravagant. But the dream of a new and modern post frame building may trigger thoughts of many other "what ifs," like a workshop, office, lounge, "man-cave," adjacent outdoor patio, or a kitchen for grilling and entertaining. Consider combining several uses to make the most out of your new building.
Contact Pacemaker Post Frame Buildings
A long-time leader and innovator in post frame building design, supply, and construction, Pacemaker Post Frame Buildings works closely with all their Indiana, Michigan, and Ohio clients to ensure they achieve their objectives. Whether for agriculture, equestrian, vehicle storage, or commercial purposes, Pacemaker provides expertise and support to build the economic and durable post frame buildings their customers require.
Visit the Pacemaker Gallery on their website to view some recent complete projects and get some creative ideas about your future post frame project.
For a no-obligation consultation to discuss a custom post frame building, contact Pacemaker Post Frame Buildings in North Webster, Indiana. You may complete the brief Contact Form on the Pacemaker website. Or, you may phone Pacemaker at (888)-834-4448.