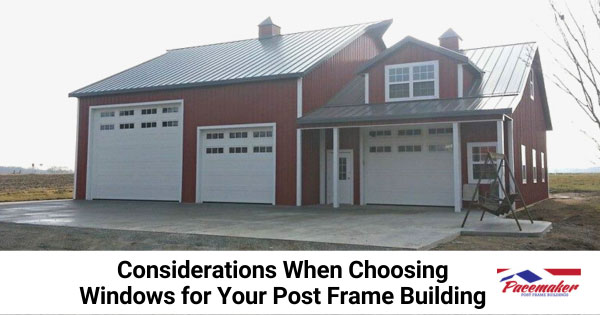 Choosing windows for your post frame building is an important component to get right. Windows are an essential part of almost any construction. Not only do they provide visibility to the surroundings, but they also serve to lower energy costs by providing natural light. Modern energy-reducing windows can also limit the transfer of energy to the exterior.
Whether designing a new post frame construction or looking to renovate an existing structure, window type and placement are important considerations. Your design objectives should be to create a window design that fosters energy efficiency while highlighting the style and purpose of your post frame building.
It is always best to work with a post frame design expert when planning a new post frame construction or remodel. Keep the following considerations in mind when choosing windows and window placement for your post frame building.
Orientation of Your Post Frame Building
The amount of natural light that could enter your post frame structure depends on the direction the building faces. While other factors, such as ease of access, might play a more significant role in this determination, having larger properly positioned south-facing windows provides maximum natural exposure during the day. It is necessary to plan the placement so that the contents of the building will not block the sunlight entering the building.
Window Styles and Grids
Post frame construction allows for the same standard window styles as other building methods. These include:
Single-hung windows
Double-hung windows
Casement windows
Horizontal Sliding windows
However, post frame building owners are not limited to these "basic" window types. You may also choose more stylish, aesthetically pleasing options such as Colonial Casement, Half-Round, Gothic, Full Circle, Oval, Pentagon, Trapezoid, Triangle, and more. Your post frame design specialist can help you decide what will work best for your project and aesthetic
Glass Options
In almost any post frame window setting, tempered glass is the best choice, particularly for barns, workshops, equestrian centers, and other places where equipment, animals, and materials are frequently moved and stored.
Where the chances of impact are minimal, double-paned insulated glass is best for keeping energy from escaping and maintaining comfortable temperatures.
Low-emissivity or "Low-E" glass products reduce energy loss by 30% to 50%. While these are about 10% to 15% more expensive, the energy savings will quickly outstrip the additional cost.
For post frame renovations, adding or replacing existing windows with modern, energy-saving windows will enhance the structure's appearance. Most importantly perhaps, these installations will immediately begin paying back those renovation costs in energy savings and comfort.
Skylights
Placing skylights can provide plenty of light without impacting how to arrange the building's contents. Note, the roofing material must be able to accommodate these window openings.
Additionally, skylights in some climates will require substantial reinforcement. Especially in areas where excessive ice and snow are likely.
Consult with a Professional Post Frame Building Company
Pacemaker Post Frame Buildings of North Webster, Indiana, has worked to help hundreds of clients over four decades to achieve their goals for beautiful, versatile, durable, and economical post frame buildings.
Before beginning a new building construction or renovation, contact Pacemaker Post Frame Buildings to discuss design, supply, and construction expectations. The experienced design team at pacemaker can make your building meet your needs. Visit the Pacemaker Gallery to view some of the company's many complete projects to see the amazing results.
Learn more about Pacemaker Post Frame Buildings by visiting their website at https://www.pacemakerbuildings.com/.
To consult with one of the Pacemaker Post Frame Buildings' professionals, phone 888-834-4448.
You may also complete the brief Contact Us Form on the website, and one of the Pacemaker Post Frame professionals will contact you promptly.