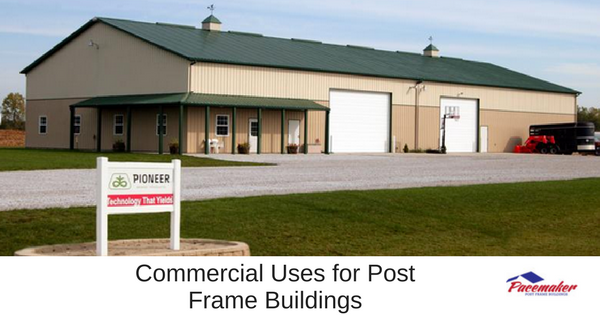 Post frame buildings did not just appear recently on the scene as a building option. As we know, many durable agricultural buildings have been constructed using post frame methods for decades. However, if you find yourself in a large furniture showroom, car dealership, garden center, grocery or drug store, or even the local post office, it is likely you may have entered a post frame building.
Post frame buildings are durable, economical, energy-efficient, and versatile. Post frame constructed buildings already serve as fire stations, schools, automobile dealerships, professional services, retail outlets, municipal buildings, churches, fire stations, warehouses, and commercial office space.
Besides being more economical and quicker to design and construct, post frame structures provide larger clear space within and the potential for bigger access openings. These are excellent reasons why post frame construction is ideal for commercial buildings.
Design Flexibility
With the latest techniques and materials, post frame buildings can be designed to take on any appearance and match the flavor of the neighborhood with the full range of architectural features including alcoves, dormers, columns, and overhangs. Natural light options can be added. For exterior walls, post frame commercial buildings may be clad in brick or stone, wooden wainscoting, stucco, and other kinds of complementary exterior finishes.
Post frame construction can provide all the beautiful elements that traditional construction offer, yet is far more practical for many purposes.
Interiors Designs
One of the great benefits of a modern post frame structure is that there are an infinite number of ways to create the interior. Since only the outer walls bear structural weight, these may be moved to accommodate changing needs. Schools and retailers, for example, benefit from this flexibility as populations and demand change. Rooms can be configured and reconfigured to accommodate existing requirements.
Also, as with any building, HVAC, drywall, wiring, and plumbing is installed as needed. Drywall or any other wall coverings that suit your taste are possible with post frame construction.
Economy
Post frame buildings are simpler to design and require less material. The time needed to build is also less than with other types of building construction. And, of course, because of the simplicity of design, the labor required is far less.
Larger Uninterrupted Space and Entryways
Commercial buildings such as retail showrooms, auto dealerships, and offices having warehouses attached benefit substantially from the wide, uninterrupted space that post frame buildings provide. Without the obstructions of multiple interior load-bearing columns, large items and vehicles can be maneuvered easily. In many cases, the area above the trusses can be converted easily into private offices and additional storage space.
Energy Efficiency
Large buildings with tons of open space can consume huge amounts of expensive energy to keep cool or warm. Post frame buildings are typically built with 8-foot spacing between the vertical support beams which is a far more energy efficient feature than the 16-inch spacing of typical "stick frame" buildings. The energy benefit is that insulation can be installed with fewer "breaks", allowing for greater efficiency. Every stud in conventional framing conducts energy through the walls, causing the insulation to be less efficient.
Easily installed skylights and under-eave natural lighting can be added easily to reduce electric bills and provide a bright, pleasant environment.
More Sustainable
Just about every element of a post frame building is sustainable. The wooden support beams and trusses are from renewable resources: trees. If metal is used for the inner coating of the structure, those parts are recyclable.
As for energy usage, a well-insulated post frame building is very energy efficient. In addition, the total amount of energy expended to build the structure is substantially less that with conventional building methods.
Other material used in the construction of post frame commercial and municipal buildings may be from recycled or reused materials.
If you are considering a post frame building for your commercial, municipal, home, or AG needs, give us a call to discuss the options give us a call to discuss the options!
Save
Save
Save
Save