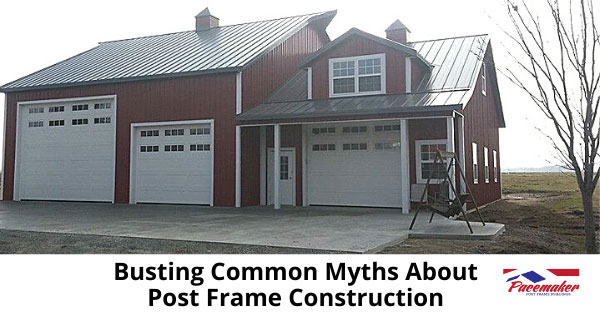 Common myths usually evolve from outdated information without any regard for more recent innovation and evolution. Post frame buildings today, once thought to be useful for only agricultural purposes, are built with state-of-the-art materials. Not to mention advanced design concepts and sophisticated building techniques now make them ideal for nearly any purpose. Let's revisit and dispel common myths about post frame construction.
Designers and builders apply modern post frame construction methods to spacious, uncluttered retail venues, adaptable schools and churches, functional civic buildings and firehouses, and more.
Dispelling Myths About Post Frame Construction
1. MYTH: "Post frame buildings are expensive."
False. Efficient use of materials, more straightforward design, less labor, shorter time to completion, greater energy efficiency, and minimal site prep all equal lower costs. Moreover, with more unobstructed space and a high degree of versatility, post frame structures are often less expensive to build and maintain.
Additionally, if future expansion is in the cards, adding on to your post frame building is often easier than with other construction types.
2. MYTH: "Post frame buildings are not as structurally sound as other buildings."
Because the solid post frame vertical posts are deeply embedded and anchored in the ground beneath, they withstand severe wind forces better than conventional buildings attached to a ground-level foundation or basement. Post frame structures redirect excessive wind forces directly into the ground below through the vertical posts. The "diaphragm action" created by the post frame design allows the building to avoid damage in a severe windstorm.
In fact, post-frame buildings remained intact in several instances where other nearby conventionally built structures collapsed.

3. MYTH: Post Frame Buildings Offer Less Flexibility
Think about it. With no interior weight-bearing beams and walls, a post frame building is like an empty canvas. Thus, it is capable of being changed to meet the building owner's needs at any time. Expanding schools and churches can change classroom and seating configurations. Retailers can rearrange showrooms and minimize office space. Equestrian centers can easily change stall configurations and indoor exercise areas. Even your entryways can be adjustable, allowing you to widen them if you need to.
Furthermore, other types of buildings do not have the flexibility to accommodate change without expensive redesigns, reconstruction, or additions. Additionally, post frame exterior cladding, roofing, and architectural designs can be the same as other types of buildings.
Discuss Your Expectations with a Proven Post Frame Supplier and Builder
Are you contemplating a new building or an addition to your existing structure? Consult with a proven post frame building designer and builder to answer your questions.
Pacemaker Post Frame Buildings of North Webster, Indiana, has been the premier post frame supplier and builder in Northern Indiana, Southwest Michigan, and Northwest Ohio for nearly a half-century. During that time, Pacemaker has led the industry in innovation and problem-solving allowing the company to become an industry leader.
To learn more about the many beautiful and functional post frame solutions, visit the Pacemaker Gallery of finished products on their website.
If you still have questions about post frame construction, you may contact the professionals at Pacemaker Post Frame Buildings at +1-888-834-4448.