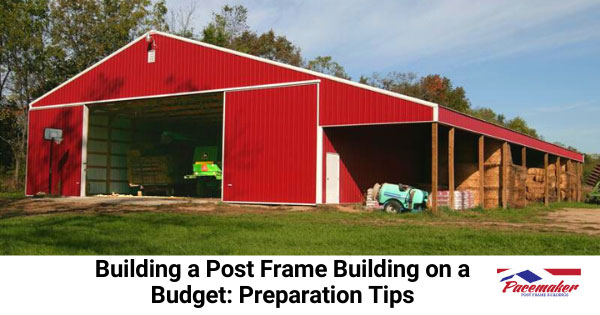 Modern post frame buildings have become ideal solutions for many agricultural, commercial, and community structures. Economical, energy-efficient, practical, and adaptable, post frame structures use efficient components and require less time and labor to build. And if future growth demands expansion, adding additional space is easier and less expensive than with many other types of construction. Build smart with these post frame building preparation tips.
While a post frame building is often the least expensive option for a new barn, equestrian center, workshop, or warehouse, there are several costs and budget issues to consider.
The first step includes planning and research to ensure your new building does not exceed your budget.
Post Frame Building Preparation Tips : The Planning Phase
Visualize everything that you must have in your new post frame building. This projection should include the location, size, site preparation, exterior finish, ventilation, number of levels, storage areas, necessary utilities, flooring, lighting, etc.
A post frame building company professional will help you determine what you require and the cost of these essential features.
Determining the Size of the Post Frame Building
Naturally, the size of the structure will weigh heavily on the final cost. If the budget is tight, maybe a smaller, more fundamental, strategic building will suffice. Remember, you can always add additional features later on when you have more funds.
You can also expand the structure later if you have left sufficient lot space to add to the original building. However, you must remember that adding on is more expensive in the long run than building bigger at the beginning.
Check with the Local Zoning Authority
When determining the site, position, and the look of your post frame building, a meeting with the local zoning authority is essential to eliminate future problems. Requirements such as the distance from property lines and other structures must be respected and in line with zoning requirements. In many instances, the style and exterior look and materials may also need to conform to neighborhood requirements.
Meeting all requirements during the planning stage will eliminate any difficulties with permits as you proceed with the project design.
Work with a Proven Professional
Expert, experienced advice from a post frame professional is necessary when matching your vision with your budget. By applying your initial research and priorities, a post frame expert can help you create a design that will incorporate the size and basic capabilities you require.
Typically the initial plan and budget will include:
Site preparation includes grading, fill material, and sloping for drainage.
All materials for the proposed structure including doors, windows, roofing materials, trusses, connectors, wiring, plumbing, etc.
Labor cost to assemble the structure.
With their experience and efficiency, a reputable post frame construction company can complete the work on time and within budget. These professionals also understand how to best secure the permits you require and can ensure everything meets inspection requirements.
Pacemaker Post Frame Buildings
Pacemaker Post Frame Buildings is a designer, manufacturer, supplier, and builder of modern, beautiful post frame buildings.
Located in North Webster, Indiana, Pacemaker has provided high-quality materials, expert advice, and professional construction services to clients throughout Northern Indiana, Northwest Ohio, and Southwest Michigan for over four decades.
To help you create a post frame solution that meets your needs and remains within budget, contact Pacemaker Post Frame Buildings at 1-888-834-4448.
Or complete the brief information form on the Contact Us page, and one of the Pacemaker professionals will contact you to discuss your project.