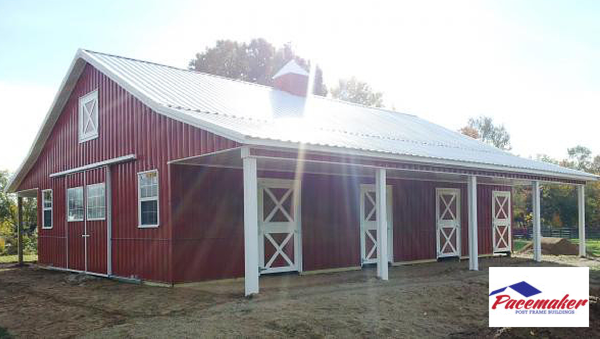 You have finally gotten ready for those new pole barns that you want to add to your land. Now it is time to prepare the site for your new building.
Below are key items you will want to address as you look at your site preparation for the coming building of your pole barn.
Mapping your Pole Barn Location
You will need to start out by locating the primary spot to build your barns. The perfect location will depend upon your property size, access and utilization for current use while allowing for future expansion of your storage needs. Ideally a flat well drained area for each barn will help maximize the use of your land. Be sure to leave enough space around your planned building area to allow for clear access on all sides for ease of entree and snow removal during the winter months as well. Your builder will help guide you as you begin to map out your property utilization.

Getting Ready to Build
Your builder can help guide you as to what requirements may be needed for your site layout and preparation. Knowing your county and local requirements are important consideration in planning your building additions to the property. Your builder can assist you with property codes, zoning requirements, setbacks, permits and inspections that may need to be followed during this planning process.

Preparing your Pole Barn Building Pad
Remove all top soil and vegetation a minimum of 4' beyond the perimeter of your building dimensions. Allow for clear access around the perimeter of the building pad with a proper drive to the site to allow for heavy equipment during construction.  Discuss with your builder how much room may be needed to stage the building material during the construction process.
Evaluating The Grade of Land for Your Pole Barn Site
Establish the finished grade elevation needed to allow for adequate surface drainage away from the building site.  If you have uneven or sloped ground on the site you have selected for your barns your excavator can help determine how to improve the grade to allow for water drainage away from the site. This may require adding a compactable type fill material to build up the site elevation.  If needed a fill material such as gravel, sand, or a coarse stone may be added in layers to accommodate designing the proper building pad. Your excavator can even add swales or perimeter type drains to help with water shed away from your building site.
There are many different options your builder can discuss with you to improve the site location you have picked for your barn. Talk with your builder and excavator early in the planning stage to determine the best placement of your barn.  This can help minimize any negative issues down the road and allow for a better construction experience.
Want more information on the process and considerations related to building a pole barn (post frame building), then download our free Planning Guide.