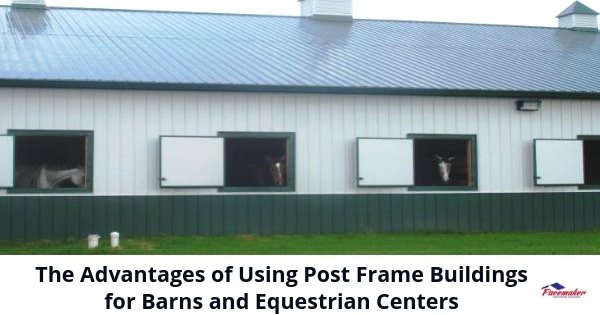 Prospective barn and equestrian center owners have an extensive list of requirements to guarantee the structure matches their expectations. Especially to meet the requirements of functionality, cost, aesthetics, and durability. Coming up short in any of these areas can be regrettable and costly.
Post frame construction is the perfect option for barns and equestrian centers. Inherently adaptable, with wide, clear space within, post frame construction allows for unobstructed movement and notable flexibility.
What is Post Frame Construction?
An early form of post frame construction, pole barns, has been used for agricultural purposes for nearly a century. Over the decades, newer methods and materials have increased the viability of post frame construction for many other purposes.
Today, civic buildings, schools, retail outlets, fire stations, schools, new barns, equestrian centers, schools, and even private residences use post frame technique. The building exteriors may be clad and finished with just about any material or architectural feature that may be used with standard construction methods.
While post frame construction is relatively simple, the architectural engineering that produces a highly durable, versatile, sustainable, and practical structure is complex. Post frame buildings consist of widely spaced, pressure-treated heavy wooden columns anchored securely in the ground at depths of at least four feet. Secured to these vertical members are support girts and trusses that are connected without concrete, masonry or conventional wood or metal studs. As a result, external forces from high winds and even tornadoes are redirected through the vertical pillars and directly into the ground beneath.
Important Advantages of a Post Frame Barn or Equestrian Center
Maneuverability
Barns and equestrian centers require open space to be effective. Obstructions like load-bearing vertical beams in conventional buildings present problems when maneuvering tractors, equipment, and horses within the structure. Backing up, turning around, and reversing is simple when these obstructions.
Also, when storing supplies and feed for animals, loading and unloading are easier without the interference of space-limiting obstructions.
Adaptability and Flexibility
As an owner's needs change, interiors of any post frame building can be redesigned to accommodate more or fewer interior rooms or walls. No interior partition is load-bearing. Hence additional stalls and storage areas can be easily added to the building.
If the original structure becomes too small for growing requirements, expansion is simpler than with conventional construction. Upright support beams are 8-10 feet apart in post frame structures. Thus a new addition may be added that immediately provides wide access from the original building.
Economy
Post frame construction offers more for less.
First, the design itself costs less due to its simplicity. Secondly, site prep only requires grading to level the surface.
Also, the elapsed time from start to finish for a post frame building is roughly half of a conventional structure. Labor and material costs are substantially less.
As well operating costs are lower. Eight foot spacing between vertical posts and deep cavities of the 4" support beams allow for more efficient insulation application. The standard 12 to 16-inch spacing with "stick frame" wooden framing creates many more "breaks" in the insulation.  And therefore a greater opportunity for energy loss.
Sustainability
Everything in a post frame building is recyclable. Furthermore, wood is a renewable resource. These elements, plus higher energy efficiency, make post frame building for agricultural and equestrian use a truly eco-friendly option.
Contact Pacemaker Post Frame Buildings
Pacemaker Post Frame Buildings, strategically headquartered in North Webster, Indiana, at the approximate center of the triangle created by metro Chicago, Indianapolis, and Detroit, is a leader in designing, manufacturing, and constructing post frame buildings for every application. Past and current projects include municipal and civic buildings, agricultural structures, residences, retail buildings, and more.
To view some examples of Pacemaker's outstanding projects, check out Our Gallery website section to see some amazing results in a range of categories.
For more information about post frame construction, call the Pacemaker experts at 1-888-834-4448.
Alternatively, complete the brief information section of the Contact Us page, and one of our Pacemaker professionals will contact you at your suggested time.