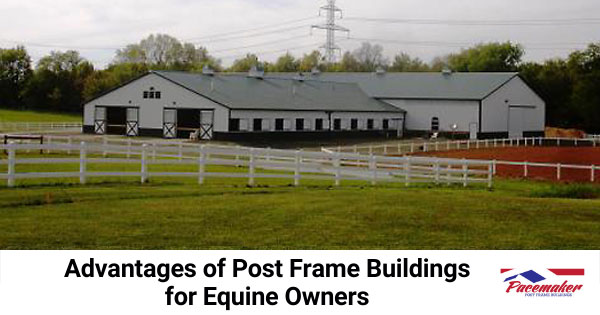 Although post frame buildings are great for many business uses, they are also perfect for housing and maintaining horses. The advantages of post frame buildings for equine owners are many. The open, clear space within gives flexibility to reorganize the interior without working around load-bearing support systems. Additionally, the open layout offers plenty of room for storage making post frame building an ideal choice.
Post frame horse barns and equestrian centers are the preferred choices throughout the equine community. While flexibility and adaptability are viable advantages, post frame construction offers even more benefits.
Here are a few more reasons post frame construction is the best choice for horse owners:
Economic and Time Benefits
Post frame structures are usually completed in less time than conventional buildings. The simple yet sophisticated technology allows for more efficient use of materials. It also requires less labor than stick-frame or masonry structures. As such, the final cost to build is often less than expected.
Time savings starts right from the preparation stage. This is because site preparation for a post frame building only entails clearing and leveling the surface. This is then followed by grading the ground to facilitate drainage.
Many of the post frame components can be prefabricated and assembled offsite. These completed pieces are then delivered along with all the hardware and connectors to the site location. As a result, the time from design to finish is substantially shorter, and onsite material waste issues are minimal. Once the components are on site, build time is faster than the construction of traditional buildings.
Energy Efficiency
Because of their design, post frame equestrian centers and horse barns are more energy-efficient than other building types. The widely spaced, heavy wooden columns allow for uniform insulation. Having fewer vertical supports reduces the number of "breaks" and therefore lessens the potential for energy to escape.
The post frame design allows you to keep your horse barn or training arena at a comfortable temperature no matter the time of year. It is easy to add additional windows, doors, and ventilation throughout the building. You can also choose to add fans, heaters, and extra insulation if needed.

Multiple Flooring Options
Virtually any type of flooring, including dirt, works well in a post frame structure. Equine owners can select from many horse-friendly options, while easily installing other floorings in sections like tack rooms and offices.
Indoor riding areas call for sand or dirt, although wooden or grid (rubber mats) are better for staging areas. Stalls can be dirt, clay, or sand based on your preference. Concrete and asphalt may be used in certain areas like loading zones. Since concrete is durable, you won't need to maintain the loading zone even with high traffic and frequent movement. Take into consideration how often horses will be in an area as harder surfaces can be hard on their legs over extended periods.
Open-Space Designs
With no interior posts and obstructions to restrict movement within, post frame horse barns allow considerable flexibility. Partitions and rooms integrate easily, and with sufficient space, an indoor riding area can provide exercise in inclement weather. You also have the option of adding or removing additional horse stalls as needed as the partitions are not load-bearing. This allows room for growth or hosting other horses for events.
Durability and Longevity
Anchored deeply into the ground with treated heavy wooden posts, post frame buildings can last a lifetime. In extreme high wind conditions, post frame buildings absorb the force and direct it into the ground below through these posts. Conventional buildings in the same extreme circumstances often suffer severe damage, sometimes even breaking away from their foundations.
Reduced Maintenance
Metal-sided post frame equestrian structures demand less maintenance than structures clad in other materials. Metal is durable and long-lasting and, when properly coated, requires only occasional cleaning and little maintenance to stay looking new. In the interior stalls, owners often consider lining the lower parts sections with plywood to eliminate the potential for denting and damage from horses kicking and general wear and tear.
Contact Pacemaker Post Frame Buildings for Your Equine Solution
Serving customers in Northeastern Indiana and the surrounding region for over four decades from their North Webster, IN, location, Pacemaker Post Frame Buildings is a recognized leader and innovator in the design, manufacture, and supply of post frame components and structures.
View some of Pacemaker's recently completed projects, including several equestrian buildings on their website. Showing all the advantages of post frame buildings for equine owners.
For answers to your questions about the economy and versatility of a new post frame equine or another type of building, you can complete the form on the Contact Us Page or call +1-888-834-4448.