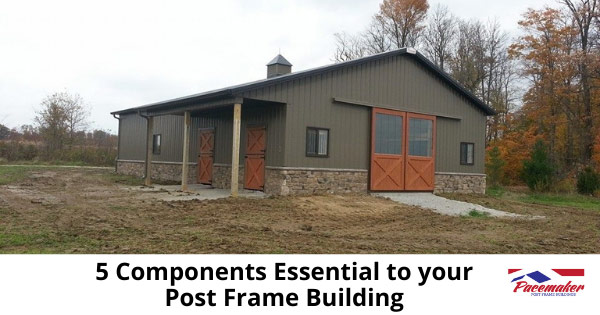 Eventually, we realize that we can no longer delay replacing that old, beyond-repair building with additional space and amenities to make life easier. Or perhaps it's just time to add an additional structure to accommodate growing needs. Either way, a brand new post frame building is the solution. The following are essential components to your post frame building.
With greater flexibility, lower cost, a shorter time to completion, and fewer materials needed, post frame construction is the ideal solution for nearly any type of building.
Why Post Frame Construction?
The new favorite choice for agricultural, equestrian, commercial, civic, and even suburban structures is post frame construction. This building method offers an open, clear space without the obstructions created by load-bearing interior walls.
Additionally, post frame buildings are durable, withstand severe weather conditions, and environmentally sustainable. Adding expansions, later on, is easier as well.
What are the Essential Components of a Post Frame Building?
Post frame construction requirements are easy to understand. The components are all pre-measured then delivered directly to the building site for assembly. Assembly requires less labor, fewer materials, and minimal waste to haul away compared to traditional buildings.
1. Posts and Foundations
The most important elements of all post frame structures are the vertical posts and foundation. The wall structure begins with heavy, widely spaced vertical columns that are deeply anchored into the ground. All posts are secured at least four feet down and shrouded on concrete footers or metal collars to protect against subterranean decay.
The foundation materials vary depending on building use. Workshops, retail spaces, and garages often choose a concrete foundation; whereas a barn or equestrian center will have a compacted dirt foundation. Discuss your foundation options with a reputable post frame company to suit your needs.
2. Trusses
Trusses represent the support structure of the roofing system. These are carefully designed and engineered to withstand maximum expected loads. Additionally, they should be made of machine-stress-rated, high-grade lumber.
These components are firmly attached to the tops of the vertical posts to create the building's essential weight-bearing skeleton.
3. Truss to Column Connections
During extreme weather conditions like tornadoes, hurricanes, and other high wind events, a well-designed post frame structure diverts the wind forces from the roof and sides to the posts and evenly into the ground beneath. This redistribution is the reason post frame structures remain upright while many conventionally built structures incur massive damage.
The essential component for withstanding extreme weather exposure is the connection between the trusses and the vertical posts or columns. In areas where tornadoes or high winds are commonplace, an interlocking truss is perfect. The interlocking truss-to-post systems integrate the two components to resist separation even in the worst conditions.
3. Purlins
The purlins are the horizontal members, spaced two feet apart, that pass through and connect the trusses. While providing the base for the roof sheathing, these components also help to disperse the wind forces through the trusses to the columns and into the ground beneath.
4. Fasteners
The strength of the fasteners that join all the components securely is critical. Generally, connections and metal plates fasten with screws due to their durability and fastening strength. Often both screws and nails are used to strengthen the connections. It is critical that your post frame building stays secure and stable, no matter the weather conditions.
Contact Pacemaker Post Frame Buildings
Pacemaker Post Frame Buildings in North Webster, Indiana has been a premier designer, manufacturer, distributor, and builder of the highest-quality post frame buildings for over four decades. Pacemaker works closely with property owners and businesses in Indiana, North West Ohio, and South West Michigan to imagine and construct their beautiful and durable post frame solutions for agricultural, industrial, commercial, and residential purposes.
To learn more about Pacemaker's high quality, long-lasting post frame projects, visit the Pacemaker website at https://www.pacemakerbuildings.com/.
You can also call the Pacemaker Headquarters at +1-888-834-4448, and one of the post frame specialists will be happy to answer any questions.