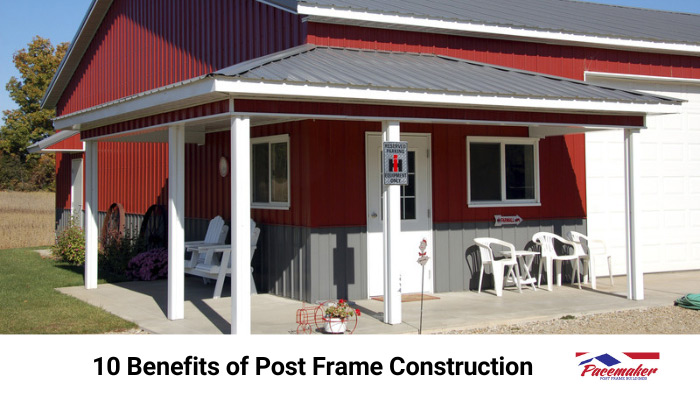 Given its many applications and uses, post frame construction offers many benefits. Usage options range from a simple workshop space to a new barn or vast equestrian center. Here is a list of areas where post frame buildings have an advantage over other types of construction, no matter what size your structure is.
Post Frame Construction Adds Real Benefits
With a shorter lead time, more efficient use of materials, open space, and other advantages: post frame construction is the reasonable solution for almost any new construction. Let's look at the reasons why.
1. Cost-effective
Post frame construction uses fewer overall materials and requires less labor. Plus, construction of post frame buildings often has a shorter lead time and takes less time to complete; it is easier to stay within budget.
2. Durability
Post frame buildings are built to survive hazardous weather conditions. Properly built post frame structures redirect severe wind conditions into the ground with deep framing. Other buildings built on a standard foundation are more vulnerable. In some documented instances, post frame buildings survived, while many surrounding structures were leveled during tornados and high winds.
3. Versatility
Post frame buildings are perfect for just about any building type. In fact, the large open space inside is easily customizable for agricultural, equestrian, civic, municipal, schools, churches and even suburban use.
4. Energy Efficient
With proper insulation, post frame buildings use less electricity than other types of construction to stay cool or warm. This is due to the ability to apply insulation more evenly in the larger spaces between columns. Hence, this often creates a more energy-efficient structure.
5. Sustainable
You can use reusable, renewable, and recyclable materials for your post frame structure. Many of these new building options require very little ongoing maintenance and result in a sound, sustainable structure.
6. Low-Maintenance
The materials used in post frame buildings are durable and require very little ongoing maintenance. Most post frame structures utilize metal roofing and metal siding. This means the only annual maintenance is to pressure wash the building to stop mold from growing and to clean off dirt.
7. Shorter Time to Completion
From design to completion, the total amount of construction time can be less than that of standard construction. Furthermore, as the materials can be delivered directly to the site, already cut to size, the entire building can be assembled in a short time. Site preparation is also simplified when only leveling is required for the foundation.
8. Aesthetics
If you want to have your new post frame structure fit in and match the surrounding buildings, you can. In fact, any finishing options for standard construction can also be applied to a post frame building. This may include masonry walls, wood wainscoting, steeper roof design, or other features.
9. Customization
Whatever you need, a post frame building is often the solution; from planning a small garage, to a massive barn or equestrian center with office and tack room. And as you grow and your needs change, the interior of your post frame building is easy to reformat without needing extensive load-bearing walls.
10. Building Codes
Post frame buildings can meet any building code necessary for your area. With superior building materials and pre-engineered trusses, the design of your new post frame buildings can meet most requirements in less time at a lower cost.
Contact Pacemaker Post Frame Buildings
If you are uncertain how to proceed, contact Pacemaker Post Frame Buildings in North Webster, Indiana.
This family-owned business has been around for over four decades, and the designers and engineers have perfected their craft.
Take a look at many of their finished projects on their website, and you will see that they have completed some very stunning projects in a wide range of areas.
To learn more about Pacemaker and to discuss ways that they can help you to realize your dream, contact the experts at Pacemaker today. You can reach them by phone at 888-834-4448.
Or you may complete their simple Contact Me Form, and one of the Pacemaker experts will reach out to discuss your project.