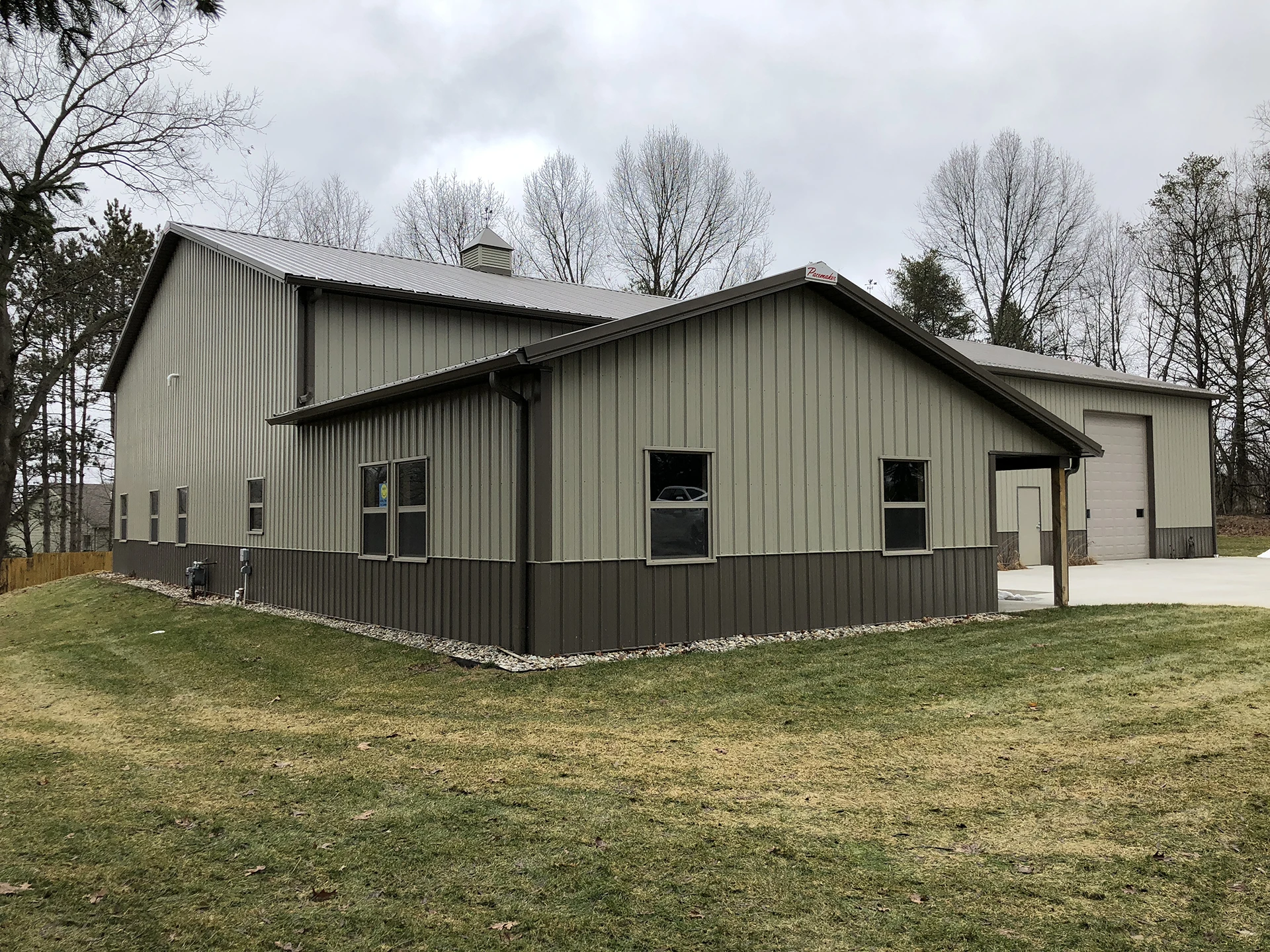 Equestrian Buildings
Pacemaker has the experts that you want on your side when the decision comes to build a new equestrian facility aka (Post Frame Building, Pole Barn, Pole Building, Horse Barn, Riding Arena, Stall Barn, Wood Frame, Stable).
From a simple barn to an elaborate facility proper design is essential. Our years of design and manufacturing experience will provide you with the expertise necessary to deliver a high quality structure every time.
Equestrian facilities are known for their highly personal and multi-faceted nature of their design. It is essential to work with a builder who understands the importance of unique functionality of this type of facility.
Our buildings are covered with Mesa panel which utilizes GALVALUME® substrate with the proven protection of Kynar 500™ paint system. This rugged coating provides unsurpassed resistance to fading and chalking. This ensures that your building will look like new for decades to come.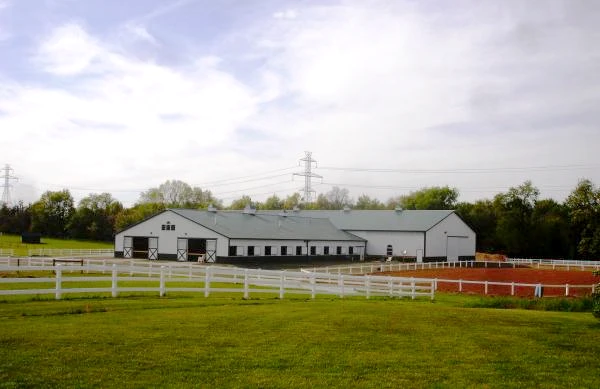 General Equestrian Gallery
Lucky Horse Equestrian Center
Niles, MI
Lucky Horse is an upscale, well designed and fully functional equestrian center which provides a unique boarding and training facility to the local area. Lucky Horse prides itself in offering the highest equine care to the Michiana area.
Established in 2007 this center is the result of many years of planning toward a single goal: to create a healthy, comfortable, first-class environment for horses and their owners.
This custom designed facility houses the following: 24 stall custom designed stall barn, a 72' x 144' indoor riding arena, a 72' x 36' attached storage area, two large outdoor riding arenas, individual turnouts in private paddock areas, climate controlled tack room, observation room, restroom, shower, laundry room, and indoor and outdoor wash areas.
Pacemaker was able to handle all aspects of design, manufacturing and building construction which reduced markups, time restraints and provided $53,000 in savings to Lucky Horse over other building companies! Pacemaker Buildings provided them with a turnkey project alleviating the stress of managing a venture of this magnitude.
CLIENT TESTIMONIAL:
"Our experience with Pacemaker went beyond our expectations…we are very thankful to Pacemaker and would definitely recommend them to anyone building their dream."
Ann Cole Equestrian Training Center
Edwardsburg, MI
66′ x 156′ x 15′ P-6 ATTACHED TO EXISTING HAY BARN
White Siding, White Roofing, Charcoal Porch Roof
Project includes a 66′ x 120′ x 15′ indoor riding arena which includes our premium grade steel ceiling panel with R-38 blown insulation in the attic space and 6″ batt insulation providing an R-19 in the wall cavities. This allows for brighter lighting and energy efficient heating to keep both instructor and trainee comfortable during use.
This equestrian training center includes 12′ x 14′, 10′ x 14′, 12′ x 8′ sliding doors along with a 12′ x 13′ insulated overhead door with electric operator. The horse arena includes a 48″ vertical stirrup guard including purlins and osb wall board to protect both the horse and rider. Also included in the riding area is our 30″ polycarbonate skylite to allow for more natural lighting for both trainer and animal.
The stall barn consists of a 66′ x 36′ x 15′ area which includes ten (10) stall with 4′ sliding stall doors with upper grill fronts, tack room, office with observation viewing area to the arena and bathroom. The stall area also includes a 12′ concrete aisle way between the stalls and into the riding arena for safe easy access in all directions.
This project also includes a 6′ x 18′ x 8′ drop eave porch with hipped ends to add visual appeal to the training entrance area. Also, included are 36″ thermalized double pane vertical hung aluminum windows with insulated steel service doors with 9-lite thermal glass. Finally 6″ seamless gutters with downs were included to allow for water shed away from the building area.